Free Online Certificate Maker
Offering certificates is a great way to show appreciation for those who have put forth the extra effort to meet a goal. Certifications are also an excellent way for employers and other entities to credit individuals for their accomplishments or specific skills.
Generate personalized certificates for Free and download the printable PDF certificates instantly!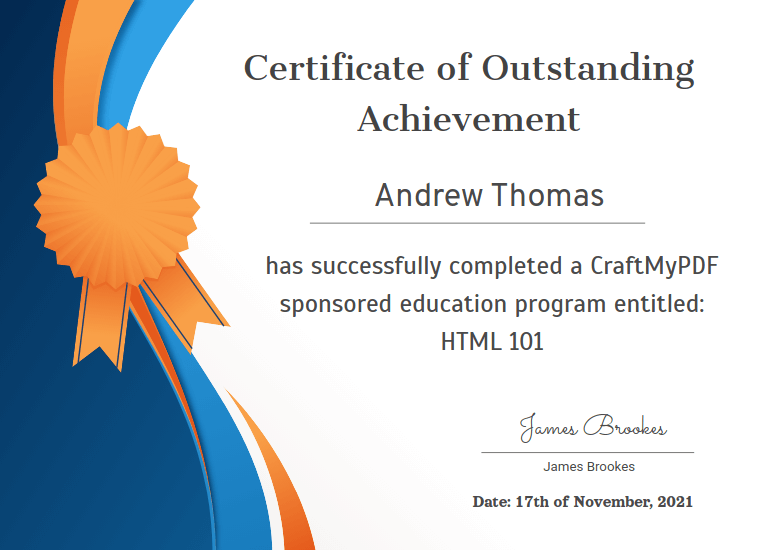 There are several types of certs present among us, including:
Gift certificate: It is a special certificate that is often given in the form of a prize after winning a competition.
Award certificate: it is a type of certificate which is awarded to the winner of some competition. In addition, it is an honor given to the winner of some competition.
Online class certificates: It is a type of course completion certificate that is obtained online. Successfully passing the quiz can result in earning instant certification.
Get started with our online certificate maker tool
Whether you want to distribute certs in your office or among kids to appreciate their participation, our tool helps you get started. Our tool lets you quickly pick a template, edit the details, and prepare a printable certificate in no time. Making a certificate is quick and easy in only three steps:
Step 1. Select a certificate template
Our online tool offers a wide range of templates to use as a base for designing your certificate. You can edit the details and print it out to certify success for achievement or event. Choose from a wide range of templates that suit your purpose.
Step 2. Enter personalized information
Edit the details of your certificate to make it personal. You have the liberty to enter the title, sub-title, name of recipient, etc. You only need to enter five basic details — title, recipient, description, date, and signature.
Step 3. Generate PDF certificate
Once you choose a template and enter the details, you are all set to print the certificate in PDF format. It's the best tool to make cert and share them on the go. Keep in mind that you can generate a total of six certificates within 24 hours.
Generating...
Using No-code tool or API for automation for personalized certificates
CraftMyPDF offers you the best free certificate generator that lets you offer an advanced No-code tool and API support to create customized certificates quickly. WIth No-code and API support, you can connect your Google Drive and Typeform with this tool and set up quick automation using Integromat.
After this integration, choose the CraftMyPDF option and use a Create PDF module to generate PDF documents. Once you complete the integration, you need to use a Dictionary for the Payload Type and map the names & course_name to the Typeform app. Finally, make certificates online in no time using CraftMyPDF cert tool.
Want a customized certificate? Get started now!
Create attractive-looking PDF certificates with our drag-and-drop editor. Add your organization's logo, change color, and fonts to make it more personalized. Quickly add additional details that you need, and you are good to go with your certificate template.
Register and get started with CraftMyPDF now.
*No Credit-card Required!